PILATES AT THE PILLOW®: RECORDINGS PACKAGE
The New Science and Lost Art of Joe's Contrology®
The pilates community has requested- and we've listened!
For the first time in Pilates at The Pillow® history, we're excited to open up some of the events as recordings.
Recordings Package Attendees will have an opportunity to view many learning experiences as well as a guided tour of Joe's original property.
Guided Tour of Joe's Original Property, Studio, and Apparatus
Pre-Recorded: Join Sean P. Gallagher and Elaine Ewing for a guided tour of Joe and Clara's Becket compound. We will show you many of the historic landmarks as well as original apparatus in the pilates museum and tell you all about the history behind it all. We will also show you the state of the Bungalow as we start the process of restoring and fundraising to return it to life, like we have just finished for the museum/studio.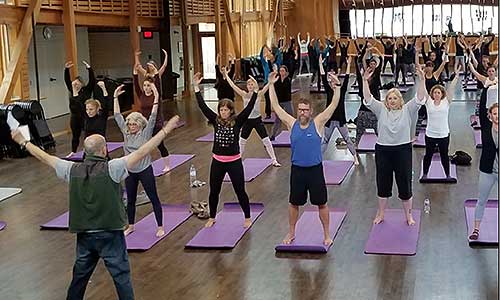 Two Pilates Archival Standing Mat™ Classes
Presented by Sean P. Gallagher and Elaine Ewing
Take a Pilates Archival Standing Mat™ class with Sean P. Gallagher, and then another with Elaine Ewing, in the beautiful Perles Studio at Jacob's Pillow, as if you were right there in the room with the attendees in real life!
The Science Behind Joe's Rehabilitative and Cardiovascular Spring Work™
Lecture presented by Sean P. Gallagher
As if you were right there in the room with the attendees in real life, join Sean for an in-depth lecture and slide show discussing the body's cardiovascular system and how Joe's Contrology® supports it as well as participating in an experiment to see if pilates meets the standard goal of intermediate exercise and a cardiovascular challenge.
Sean P. Gallagher
Sean P. Gallagher (BFA, PT, CPT, CFP, EMT, MS) is the owner and master physical therapist of Performing Arts Physical Therapy, as well as a master pilates teacher and Teacher of Teachers at his studio in NYC, The New York Pilates Studio®. He developed the first teacher training manual along with Romana Kryzanowska for Authentic Pilates™ and was instrumental in getting the Pilates method recognized and taught around the world. Sean is also the owner of the largest collection Joseph Pilates' archival material and has three published books, "The Pilates Method of Body Conditioning" , "The Collected Works of Joseph Pilates" and "The Joseph H. Pilates Archive Collection". Sean has also been teaching pilates at Jacob's Pillow in Becket, MA for 17 years.
As a physical therapist, he has provided backstage Physical Therapy care at over 120 Broadway shows. With over 35 years of dance and physical therapy experience he has developed the most comprehensive injury prevention and self care program available to performers today. Sean is an adjunct professor for Anatomy, Somatics, and Authentic Pilates™ at Marymount Manhattan College, Anatomy and Authentic Pilates™ at the New School for 12 years, and was adjunct professor for Gross Anatomy at NYU's Physical Therapy program for 9 years. He is a New York State certified Emergency Medical Technician and has recently completed his masters in Clinical Nutrition from Bridgeport University. He also collects old books on medicine, exercise and health.
Sean Gallagher is the property owner of Joe's original studio and items displayed there. He was the main presenter at Pilates at The Pillow® 2018 whose workshops were titled, "Was Joe 50 Years Ahead of His Time, Or Not?" And "Common Teaching Cues in Pilates".  He also organized Pilates Jeopardy, was a panelist in the panel discussion, "The State of Pilates Today", and guided a tour of the historic property and studio that was originally Joseph Pilates'.
Pilates History Talk with Cathy Strack
Join Cathy Strack for a slide show presentation of her pilates history research for her newly published biography about Joe Pilates. As if you were attending in person, this experience will feel like you're right there in the room. You will also have the opportunity to order a signed copy of her book, just like the live attendees.
Elaine Ewing's Interview with Sean P. Gallagher: The History of The Pilates Studio Business: 1992-2003
Listen and learn with the live attendees as Elaine interviews Sean about the history of the original pilates studio business during the years Sean worked with Romana Kryzanowska to develop the first professional Pilates teacher training Program and bring Joe's work and dream around the world. Sean will also discuss his published works that he either co-wrote or edited with Romana.
Information about Pilates at The Pillow®: Recordings Package
Pilates at The Pillow®: Recordings Package includes:
Zoom recording (not a live experience) access to the events listed above starts on September 20 and is available until September 27, 2022.

You will be sent a Zoom link on September 20 that will expire on September 27 at midnight EST.

Please see each virtual event description for information on handouts, and which events are pre-recorded or recorded live.
No cancellations, refunds, or recording extensions. 

Be sure that you have a strong WIFI connection to view the recordings. No refunds will be given for WiFi issues or loss of connection.

Recordings are sent on 9/20/22 and expire at midnight on 9/27/22 take place in the Eastern Time Zone (New York, US). 

Please Note: The Zoom recording will be sent to the email you use to make your Paypal payment during your initial registration and cannot be changed. 

All content, film, and audio copies of this and any event presented in person or online are the sole property of and copyrighted by Richtone Design Group LLC. 

All classes taught by Sean Gallagher and presentations and classes taught by Sean Gallagher and Elaine Ewing are copyright Richtone Design Group, LLC.

All Pilates at The Pillow®: Recordings Package attendees agree not to re-present or teach the information taught in these presentations and events to other teachers in the form of a workshop, continuing education, or teachers class, through either a virtual/online or live platform. You acknowledge and agree that all materials are for your personal use with your pilates clients in the studio or virtually only in a regular class type setting only.

No downloads, taping, or sharing of the class or event recordings and/or audio are permitted. No sharing of the recordings with another person in the room who is not registered. 

By registering for Pilates at The Pillow®: Recordings Package you are agreeing to these terms.